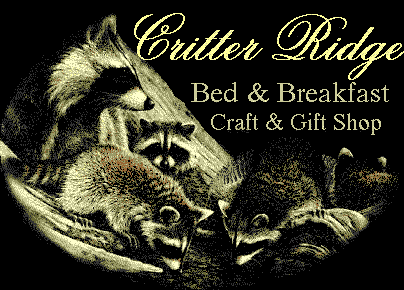 Call today and reserve your room at 1-800-900-2956
(sorry... e-mail is not working right now)
Critter Ridge Bed & Breakfast, Gift & Craft Shop
State Route 328
Logan, Ohio 43138
Best viewed with


or

Click the image to download one now.
"Critter Ridge Bed & Breakfast"
is located in the heart of the Hocking Hills region of Southeastern Ohio.

Whether you are planning to go backpacking through "Wayne National Forest", camping at "Old Man's Cave", hiking around "The Hocking Hills State Park", visiting your favorite "Ohio University" student in Athens, Ohio or you just want to spend a quiet evening watching the sun go down over the foot hills of the Appalachian Mountains, "Critter Ridge Bed and Breakfast" will be your best choice for a clean room and a hot, made to order breakfast or full continental breakfast.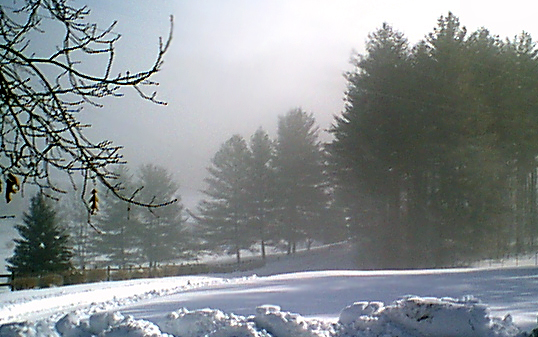 Set on top of a hill, nestled in white pines and over 60 acres of woods, "Critter Ridge" was named because of the abundance of wildlife in the area. Every night the raccoons come from their dens to the back porch for diner (at least 10 different ones) and in the spring they bring their babies. Deer will visit the field out front of the bay windows of the living room. In the autumn flocks of turkey (at least 80 in one flock) come out of their roosts for their cracked corn breakfast. From humming birds to fox you never know what might come out of the woods next. The one thing you know for sure is... the reason... The good food and friendly atmosphere is what keeps our critters coming back.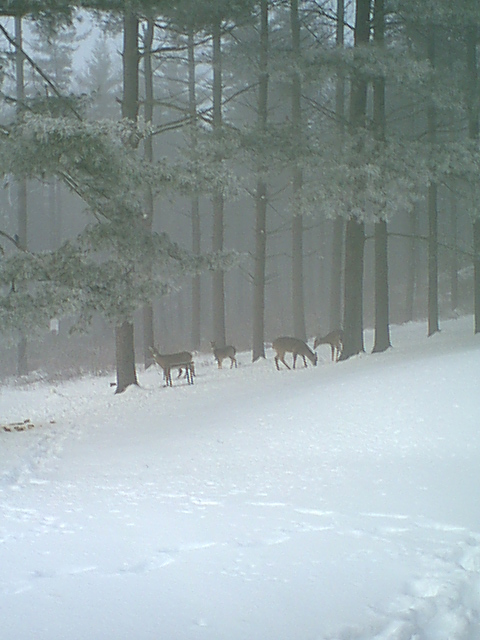 Southeastern Ohio is well known for the fall foliage. The golden browns, bright yellows, brilliant reds and deep purples keep thousands of people returning each year just to watch the trees sway. The best time to visit is during the Paul Bunyon Show at the Hocking Technical College in Nelsonville, Ohio the first and second week of October, so make sure you make your reservations now to avoid the autumn rush.
"Critter Ridge Bed & Breakfast" offers 2 rooms with a shared bath. Breakfast is your choice of a full continental or made to order when you want it.
Sorry, but we do not have a swimming pool or hot tub and we do not allow pets.
We also do not allow hunting on our property, but there is plenty of public and private land available.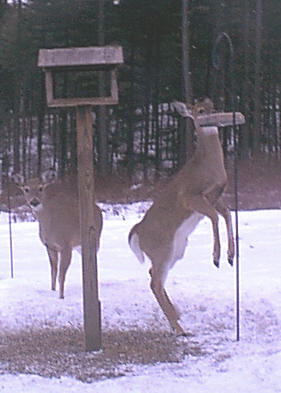 Points of interest from our home
Hocking Hills State Park 15 minutes southwest
Ohio University 25 minutes east
Columbus, Ohio 45 minutes northwest
Hocking Technical College, Nelsonville, Ohio 15 minutes east



For current events around the "Hocking Hills area please follow the links below
or call 1-800-HOCKING

(Click the Link below to get a detailed map)
Hocking Hills Internet Organization (HHIO)

This web site was created using



By The Silicon Falcon

If you find anything wrong with this site e-mail The Silicon Falcon.